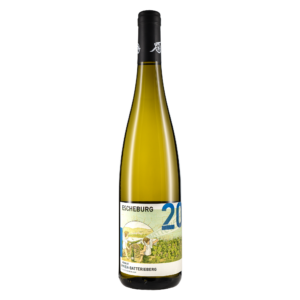 2020 Escheburg Riesling
€18,00
24,00€ Preis pro Liter
Die Essenz aus den vier
Enkircher
Spitzenlagen verleiht diesem Wein viel Druck und Eleganz aus über 60 Jahre alten, teils wurzelechten Reben.
James Suckling/ Stuart Pigott (94 Punkte):
"omplex nose of mango and floral honey with a touch of something balsamic. Richly textured and focused with very ripe acidity, this very impressive dry Mosel has a long, sensual finish that's simultaneously silky and creamy. A blend of wines from all this producer's top sites and the best vintage of this wine to date! From organically grown grapes. […]."
Robert Parker/ Stephan Reinhardt (93+ Punkte):
"Assembling grapes from all the five "grands crus" of the domain and aged in old small oak barrels, the 2020 Enkircher Riesling Escheburg opens with a fine yet intense and elegant bouquet of ripe Riesling berries and finely weathered slate. Crystalline, refined and juicy on the palate, this is a full-bodied, round and elegant yet filigreed dry Riesling with a long, intense and complex finish with stimulating roundness and salinity. Just bottled, the 2020 Escheburg is already in captivating early form. […]."
Rebsorte:

Riesling

Flaschengrösse:

0.75l

Qualität:

Qualitätswein Trocken

Herkunft:

Enkirch Village , Mosel (Deutschland)

Alkoholgehalt:

12,0 Vol. %

Vegan:

Ja

Enthält Ei-Allergene:

Nein

Enthält Milch-Allergene:

Nein

Enthält Sulfite:

Ja