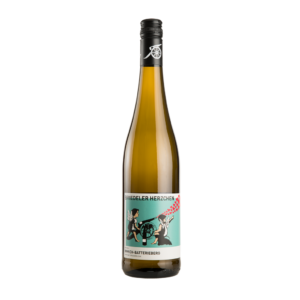 2020 Briedeler Herzchen Riesling
€18,00
24,00€ Preis pro Liter
Das
Herzchen
ist eine steile SüdOstlage mit grauem bis rotem Schiefer auf der rechten Seite der Pündericher Marienburg. "Helle", feine Rieslinge mit stabiler Säure und sehr expressiver Nase.
James Suckling/ Stuart Pigott (93 Punkte):
"Plenty of candied-citrus and wild-herb character here. In spite of that and the generous ripeness, it remains quite sleek and shows lovely elegance through the polished, wet-stone finish. The second vintage of this wine. From organically grown grapes. […]."
Robert Parker/ Stephan Reinhardt (92 Punkte):
The 2020 Briedeler Herzchen comes from gray and red slate soils of a steep vineyard that is virtually the southeastern extension of the Pündericher Marienburg. The wine opens with a deep, pure, fine and very stony bouquet of crushed slate, lemon oil and yellow paprika. Round and crystalline on the palate, this is a lush and rich yet elegant and balanced dry Riesling with round and aromatic, juicy fruit and crystalline acidity. The Herzchen is full-bodied and round and reveals a fine phenolic structure that balances the power of this unusual fruit-intense and mouth-filling Riesling perfectly. […]."
Rebsorte:

Riesling

Flaschengrösse:

0.75l

Qualität:

Qualitätswein

Herkunft:

Briedeler Herzchen , Mosel (Deutschland)

Alkoholgehalt:

12,0 Vol. %

Vegan:

Ja

Enthält Ei-Allergene:

Nein

Enthält Milch-Allergene:

Nein

Enthält Sulfite:

Ja