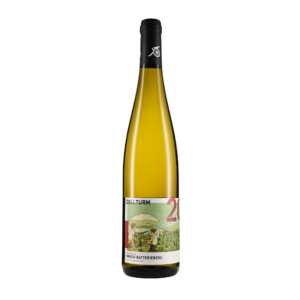 2016 Zollturm Riesling
€35,00
46,67€ Preis pro Liter
Robert Parker/Stephan Reinhardt (93PP): "Made for the second time, the 2016 Trabener Zollturm Riesling offers pure yet deep, intense and elegant ripe Riesling fruit intermixed with flinty-mineral aromas of crushed stones on the nose. Full-bodied, round and elegant on the palate, this is a complex, finessed and salty Riesling with ripe, rich but crystalline and structured fruit with remarkable balance. It's pure and salty, beautifully clear and mineral, reflecting the steep, warm terroir of the Zollturm that was purchased in winter 2014/2015.
Genrot Kollmann has probably produced his finest collection thus far. His 2016s have open and clear fruit, good structure and intensity although they are rather light in alcohol. The balance is simply great. Yields were low due to peronospora. "At first there was too much water, then there was not enough of it," says Gernot. His harvest was short and finished around October 27. The wines were bottled in June (C.A.I.), the single vineyards in August and two wines a few days before Christmas: Batterieberg and the first release of the Batterieberg Reserve that comes from a particular terrace with low yields. The yields were at 20 hectoliters per hectare in 2016 (and also in 2017)."
Zollturm
. Eine alte Zollfeste auf dieser extremen Steillage setzt eine imposante Landmarke für unsere jüngste Weinbergserwerbung. Das Monument aus grauem, quarzithaltigem Schiefer ist nur wenige hundert Meter von der Enkircher Ellergrub entfernt, gehört aber dennoch schon zu Traben-Trarbacher Gebiet. Ein opulent-rassiger Spitzenklasse Riesling.
Rebsorte:

Riesling

Flaschengrösse:

0.75l

Qualität:

Qualitätswein Trocken

Herkunft:

Trabener Zollturm , Mosel (Deutschland)

Alkoholgehalt:

11,0 Vol. %

Vegan:

Ja

Enthält Ei-Allergene:

Nein

Enthält Milch-Allergene:

Nein

Enthält Sulfite:

Ja